You can step into comfort, performance, and style with the best Asics Gel shoes for men! 
Asics has a long history of producing high-quality, modern athletic footwear. Finding the ideal pair of Asics shoes for men can make a huge difference in your performance and experience, whether you're a runner, a gym enthusiast, or someone who likes to be active.
Various ideal Asics Gel products are available in the market, including asics gel kayano, asics gel nimbus, asics gel 1130, asics gel nimbus 25, and asics gel lyte.
However, it may be challenging to decide which one is the best.
No worries!
This article will lead you through the most important things to consider and the unique features of Asics Gel shoes.
So, are you ready to enhance your footwear game with ASICS Gel shoes?
Let's get started!
3 Best Asics Gel Shoes For Men
Asics Gel Peake All-Rounder Cricket Rubber Studs Shoes
Cricket players and enthusiasts looking for the perfect blend of comfort, durability, and performance will find it in the Asics Gel Peake All-Rounder Cricket Rubber Studs Shoes. Designed with the player's needs in mind, these shoes offer a unique fusion of technology and style.

The Asics Gel Peake All-Rounder Cricket Rubber Studs Shoes include the following features:
Synthetic Upper: The synthetic top of the Asics Gel Peake Cricket Shoes is lightweight and durable. Further, the synthetic material is made to endure the demands of cricket, providing excellent wear and tear resistance while facilitating ventilation to keep the feet cool and comfortable over long matches.
Toe Reinforcement: The Asics Gel Peake Cricket Shoes include a reinforced toe to increase the shoe's durability and provide impact protection. This extra layer of protection helps shield the front of the shoe from injury, especially when toe-dragging actions typical of cricket are involved.
Internal Heel Counter: The shoes have an internal heel counter, a structural part at the back of the shoe that helps support the heel when walking. This element offers crucial stability and prevents the heel from rolling or slipping, keeping a tight fit.
Internal Rearfoot Gel: The Gel Peake Cricket Shoes have internal rearfoot Gel units, a component of Asics' famous Gel cushioning technology. Moreover, to provide excellent cushioning and reduce the impact on the feet and joints during energetic motions on the cricket pitch, these Gel cushioning units are strategically positioned in the midsole to absorb shock upon impact.
AmpliFoam Midsole: The shoes' midsole is made of Asics' own AmpliFoam, renowned for being both lightweight and responsive. You can play long matches more effectively without being as tired due to the AmpliFoam midsole's strong energy return capabilities.
Dimpled Rubber Outsole: The Gel Peake Cricket Shoes include a dimpled rubber outsole. This outsole design allows quick actions, stable footwork, and precise direction changes without worrying about slipping on various cricket-playing surfaces.
Stitched Toe Bumper: The Gel Peake Cricket Shoes have a stitched toe bumper to increase the shoe's overall durability and protect the toes from injury and abrasion. The reinforcement at the front of the shoe protects the player's toes during fielding, batting, and bowling, assuring the shoe's long-term durability and safety.
Asics Gel-Peake Rubber Sole Shoes
Introducing the ASICS GEL-PEAKE with Rubber Sole – a game-changer in the world of sports footwear. Engineered for excellence, these shoes redefine comfort and performance.

Here are the features of Asics Gel-Peake rubber sole shoes:
Designed For Athletes: The Asics Gel Peake is made especially for those participating in field sports or outdoor training. It meets the demands of active people who need reliable footwear for their physical activities.
Durable Construction: The shoes have a stable design that allows them to withstand the harshness of sports and outdoor activities. The materials used are also chosen for their ability to withstand wear and tear.
Enhanced Stability Properties: The Asics Gel Peake is constructed with improved stability specifications to provide users with a supportive and stable fit. In addition, athletes need this feature as it boosts overall performance while reducing the risk of injury.
Stable Upper Design: The shoe's upper design is stable, which helps with the support and comfort it provides. Using reinforcing panels and synthetic leather overlays on the sides offers better midfoot support during movement and physical activity.
GEL™ Technology Cushioning: Asics added their renowned GEL™ technology cushioning in the rearfoot of Gel Peake shoes. This innovative design effectively reduces the impact of harsh landings and sudden braking, improving comfort and protecting the wearer's feet.
Flex Grooves in Outsole: The GEL™ shoes have strategically placed flex grooves in the outsole that enable quick motions and seamless pivoting. Furthermore, athletes can move freely and effectively during practice or competition due to these grooves, which increase the shoe's flexibility.
Asics Running Shoes For Men: Asics Gel Peake shoes are perfect for running activities. The stability and cushioning combination guarantees a stable and supportive running experience.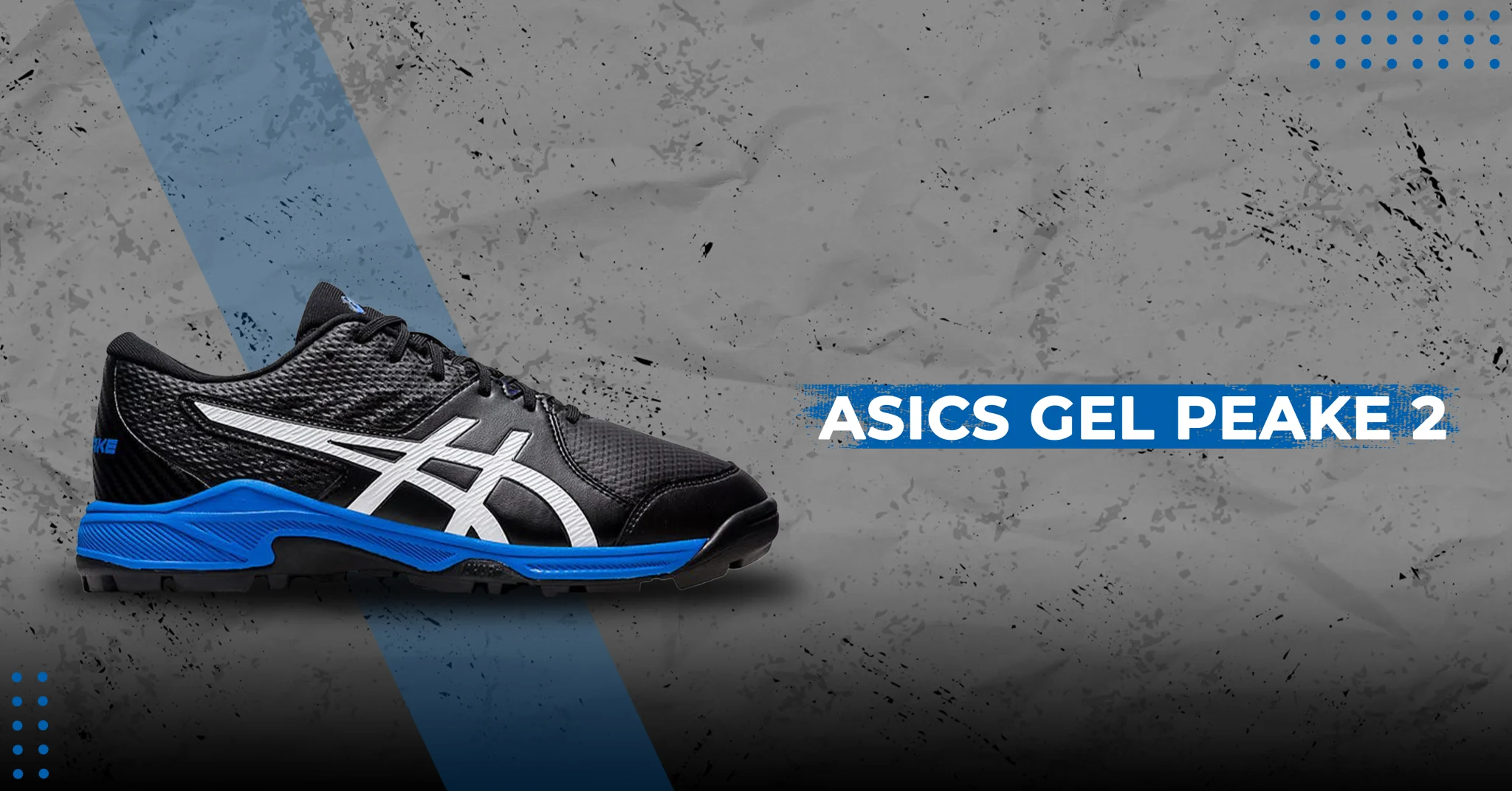 Asics Gel-Peake 2 (2023)
Welcome to the future of cricket footwear with the Asics Gel-Peake 2 (2023) edition. This latest iteration brings fresh innovations while preserving the trusted features of its predecessor.

The following are the features of Asics Gel-Peake 2 (2023):
Designed For Field Sports And Outdoor Training: The Asics Gel-Peake 2 is mainly designed to meet the needs of field sports and outdoor training activities. Moreover, these shoes are made to perform well in any quick, stable action, like soccer, hockey, rugby, and others.
Advanced Stability Properties And Durable Construction: The Asics Gel-Peake 2 has a durable and strong construct that ensures it can withstand the challenges of intense sports and outdoor activities. These shoes are made to last and offer continuous support and functionality.
Stable Upper Construction: The Gel-Peake 2's top is constructed to provide support and stability during lateral moves. Reinforcing panels and synthetic leather overlays have been added in key areas to keep the foot in place, stop excessive side-to-side movement, and lower the risk of injury.
Rearfoot GEL™ Technology Cushioning to Reduce Shock: Asics running shoes is well known for their GELTM cushioning technology, and the Gel-Peake 2 includes it in the rearfoot area to reduce shock. So, this innovation reduces shock and protects joints and muscles from possible injury by absorbing and dispersing the impact forces produced during heel striking.
Flexible Outsole: Flex grooves are included in the Gel-Peake 2 outsole design to enhance flexibility during quick pivoting and agile movements. It makes the shoes more responsive, enabling athletes to quickly change directions without losing stability.
How to Buy The Best Asics Gel Shoes For Men Online?
A reputable online store, Yashi Sports has a huge selection of excellent cricket accessories.
You can purchase the best Asics Gel shoes for men online at Yashi Sports.
Follow these simple steps to place your order:
Yashi Sports Website: Visit the official Yashi Sports website to go through the collection of ASICS Gel shoes for men.
Know Your Size: Confirm that you know your exact shoe size. If needed, measure your feet using the Yashi Sports size chart.
Know Your Preferences: Use the website's filters to narrow down options depending on your preferences for shoe type, size, colour, and more.
Decide Your Objective: The primary purpose of the shoes should be determined. Are you purchasing them for daily use, exercise, walking, or running? Different types are designed for various activities.
Read Product Descriptions: Click on any shoe to read a complete description that includes information on the features, technology, and intended use.
Check Customer Reviews: Look for customer reviews and ratings for the ASICS Gel shoes you're considering buying. Reviews can offer insightful information about comfort, durability, and performance.
Examine Cushioning Technology: The ASICS Gel shoe model is renowned for its excellent cushioning. Know the kind of padding used in the particular model you are considering buying.
Review Unique Features: Some ASICS Gel shoes have additional features like water resistance, better grip, or reflective materials. Determine your needs before making a decision.
Compare Models: Examine several ASICS Gel models to choose which suits your needs and budget best.
Look For Deals & Discounts: Check Yashi Sports for current discounts, ongoing sales, or offers on ASICS Gel shoes.
Know Return Policy: Understanding Yashi Sports' return and exchange policies can help you if there are any problems with the shoes.
Check Shipping Information: Before placing your order, carefully review the shipment information, including the pricing, delivery schedules, and shipping methods.
Secure Payment: Use secure payment methods to protect your financial and personal information.
Keep Track of Your Order: After you make an order, Yashi Sports' tracking system will allow you to keep track of its progress.
Subscribe for Updates: Consider signing up for Yashi Sports' email to learn about new products and exclusive deals.
Recommendation: 
If you're looking for the ideal cricket shoes that provide outstanding performance and comfort, go for Asics Gel shoes for men.
The Asics Gel-Peake 2 (2023), Asics Gel-Peake Rubber Sole Shoes, and Asics Gel-Peake All-Rounder Cricket Rubber Studs Shoes all give exceptional performance, comfort, and durability.
Purchasing one of these models will undoubtedly enhance your athletic experience and assist you in performing best on the pitch or in your activities.
Moreover, the Asics Gel Peake shoes are a must-have for athletes looking for the best support, comfort, and durability, as they constantly provide great quality and performance.
You can rely on the Asics Gel Peake to provide the performance you require for success on the pitch.
Lace up & Achieve Your Goals With Yashi Sports! 
Are you searching for the best shoes to improve your athletic performance?
Look no further! Yashi Sports presents the best Asics gel shoes for men, expertly crafted to elevate your game.
Our wide variety of shoes for men offers the perfect balance of cushioning and stability for every step, regardless of whether you're an experienced athlete or a casual runner.
Don't miss out on the opportunity to transform your sports experience with Yashi Sports shoes for men.
Visit now to enhance your performance and set an example among your peers!
Takeaway
The key to finding the best Asics Gel shoes for men is discovering the ideal mix between style, comfort, and performance.
Asics has continuously demonstrated its reliability as a brand committed to meeting the different demands of athletes and everyday individuals.
Remember that purchasing top-notch shoes improves your sporting experience and lowers the risk of injuries.
Athletes worldwide have a lot of faith in Asics Gel shoes because they have a track record of providing outstanding performance.
What is special about ASICS GEL?
The forefoot and rearfoot are impacted by ASICS GEL technology, which places gel where it is most beneficial. 

While forefoot GELTM technology improves shock absorption during forward movement, rearfoot GELTM technology reduces impact at heel strike and enables an effortless transition.
Do ASICS really have GEL in them?
ASICS uses GEL technology and foam structures to create advanced hybrid designs for runners, walkers, and other movers.
Are ASICS recommended by podiatrist?
Yes, podiatrists often recommend ASICS shoes due to their cushioning and supporting features, particularly for people with foot-related problems.
How long does ASICS GEL last?
Depending on usage, ASICS GEL can last up to a year while maintaining its cushioning abilities. It depends on activity level and maintenance.
Is ASICS high quality?
Asics is a well-known brand of running shoes. They are known for being high-quality, comfortable, and durable and are frequently considered the best running shoes.
Do ASICS wear out fast?
Depending on usage and activity, the lifespan of ASICS shoes can change, although they are frequently considered to provide excellent durability. But with constant use, they will ultimately wear out.