Welcome to the riveting world of cricket, a sport where every piece of equipment can be the difference between a glorious victory and a heartbreaking defeat.
Among these essential items, cricket batting pads are paramount, offering protection, comfort, flexibility, and confidence to face any bowler's thunderbolt deliveries.
Being aware of the importance of this critical protective gear may change the game. A decent set of cricket batting pads will fight beside you, protect your legs from tough spells, give you the agility to glide around the wicket and, most importantly, reflect your preferences and style on the field.
Therefore, you've come to the perfect spot whether you're an experienced cricket player looking to enhance your equipment or a new enthusiast wanting to get a perfect pair of pads.
This guide will enlighten the maze of cricket pads, assisting you in navigating their complexities and selecting the ideal option for your budget, comfort level, and material.
Keep reading!
Our Top Picks:
GN Prestige Batting Pads- Black
Puma EVO 1 Batting Pad
SG Players Xtreme Cricket Batting Legguard (Batting Pads)
SS Batting Pads Test Elite
Yashi Batting Pads – Test Opener
GN Prestige Batting Pads – Black
The GN Prestige Batting Pads in Black blend tradition and technology. Exuding class with their stunning black finish, these pads offer style and top-notch protection. They are meticulously crafted using a high-grade polyurethane cover for ultimate durability.
Internally, the pads feature a tri-layer protection system designed to absorb impact effectively, providing an additional safety layer.
Your knees will remain protected even from the most ferocious deliveries thanks to the high-density foam reinforcement in the knee roll region.
The strap system is designed to be comfortable, making finding the ideal fit simple. The GN Prestige Batting Pads are an excellent choice for any serious cricketer since they offer great comfort, protection, and style.
Features: 
Colour: Black
Prestige model by GN (Gray-Nicolls)
High-quality construction for durability and protection
Lightweight design for improved mobility
Multi-section knee roll for enhanced flexibility
Wide, adjustable straps for a secure fit
Ergonomic shape for comfort and ease of movement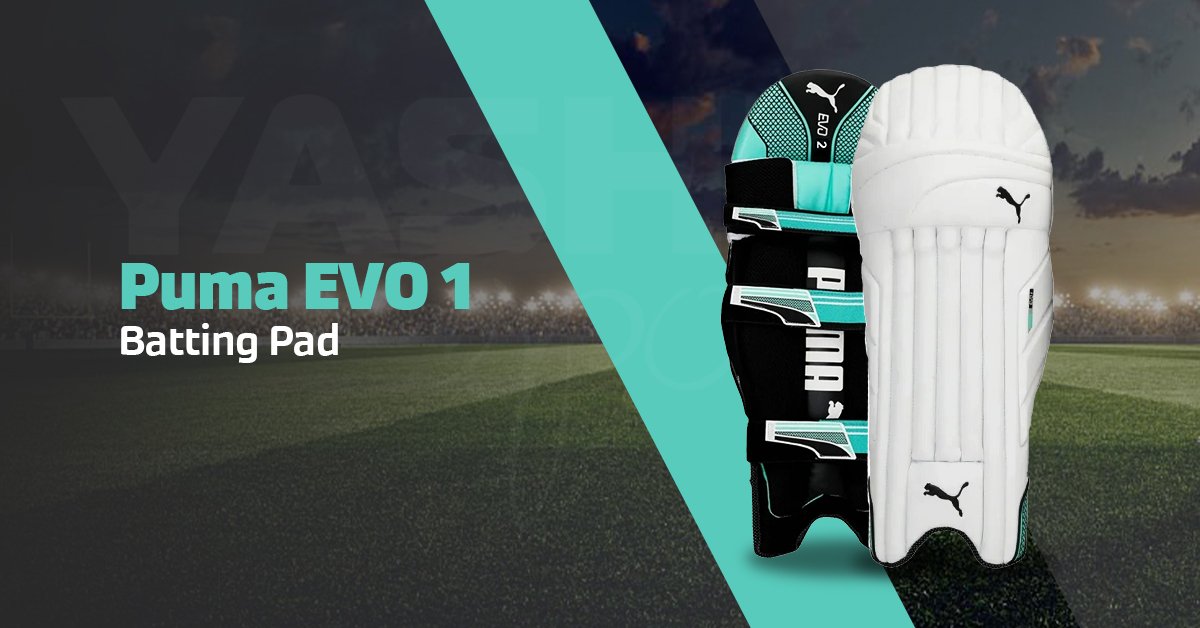 Puma EVO 1 Batting Pad
With Puma EVO 1 Batting Pads, cricketers will undoubtedly feel safe and at ease as they approach the wicket. The Puma EVO 1 pad has a ground-breaking design for maximum flexibility.
These pads are skilled at reducing the impact of the cricket ball because of their high-density foam cushioning.
The distinctive vertical bolsters built into the pads give them a lightweight feel while still offering substantial protection. Movement is uncomplicated because of the tight, comfortable fit provided by the cushioned straps and ankle foam.
These pads provide unmatched protection, unmatched comfort, and, most significantly, a lightweight design that doesn't restrict mobility for the aspirational cricket player.
Features: 
EVO 1 model by Puma
Sleek design with a modern look
Lightweight yet sturdy construction
High-density foam for excellent protection
Ergonomically designed for a comfortable fit
Three adjustable straps for a secure and personalized fit
Premium materials for durability and longevity
SG Players Xtreme Cricket Batting Legguard (Batting Pads)
The Players Xtreme Cricket Batting Legguard created by SG, is renowned for its unwavering dedication to excellence. These batting pads provide comprehensive covering and security.
The pads are made of the highest quality PU material and are built to resist heavy use. The reinforcement made of extra-high-density foam protects the player from fast deliveries.
Along with outstanding sweat absorption, the legguards' sponge-padded spacer mesh keeps you dry and comfortable throughout your innings. The durability and lifespan of these pads are their major advantages, making them an excellent choice for cricket players who anticipate frequent play.
Features: 
Players Xtreme model by SG (Sanspareils Greenlands)
Designed for professional players
Superior protection with reinforced knee and shin protection
Lightweight design for agility and ease of movement
High-density foam padding for impact absorption
Wide straps and buckle closure for a secure and adjustable fit
Premium PU (Polyurethane) facing for durability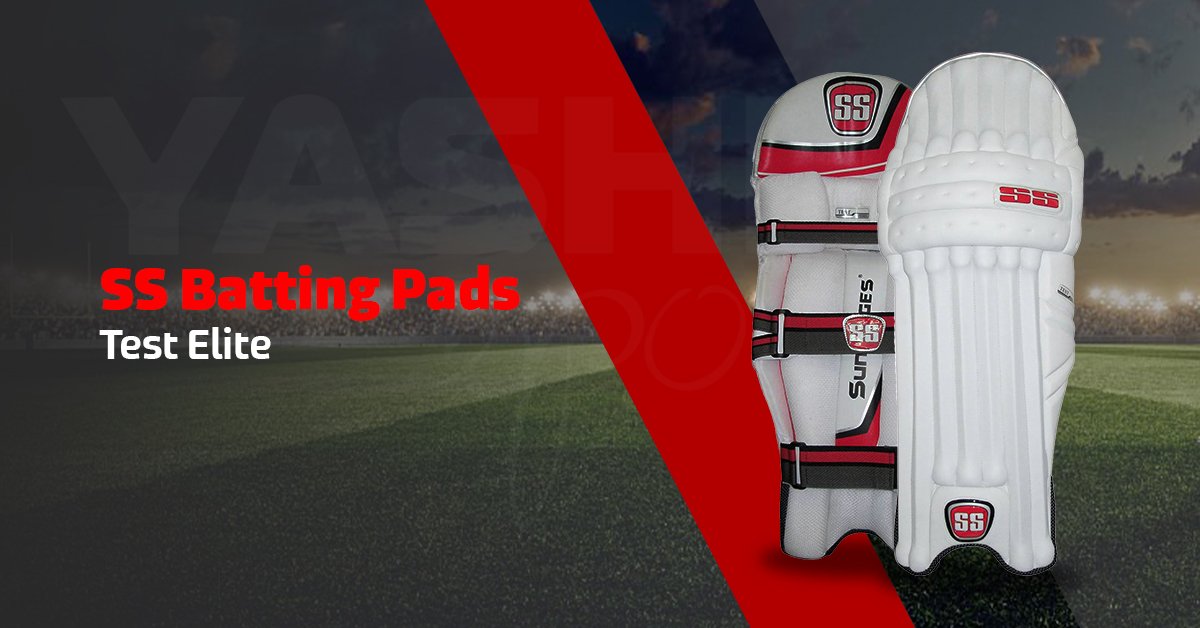 SS Batting Pads Test Elite
When you discuss the SS Batting Pads Test Elite, you are discussing a work of cricket art. The balance between weight and protection this pair of pads offers is remarkable. The pad's ultralight, high-density foam composition keeps it light without sacrificing its capacity to withstand quick, forceful deliveries.
The Test Elite's ergonomic design conforms to the player's motions and makes manoeuvrability never a problem, enabling quick runs between the wickets.
The adjustable strap mechanism, which ensures the pads stay securely in place, makes these pads special. These pads are a need for cricket players, providing them with superior comfort and cutting-edge protection in the toughest circumstances.
Features: 
Test Elite model by SS (Sareen Sports)
Designed for professional-level performance
Traditional look with modern features
Top-quality imported polyurethane facing for durability
Extra-wide protection on the front for enhanced safety
High-density foam padding for shock absorption
Three adjustable straps for a secure and customized fit
Reinforced knee and shin protection for added safety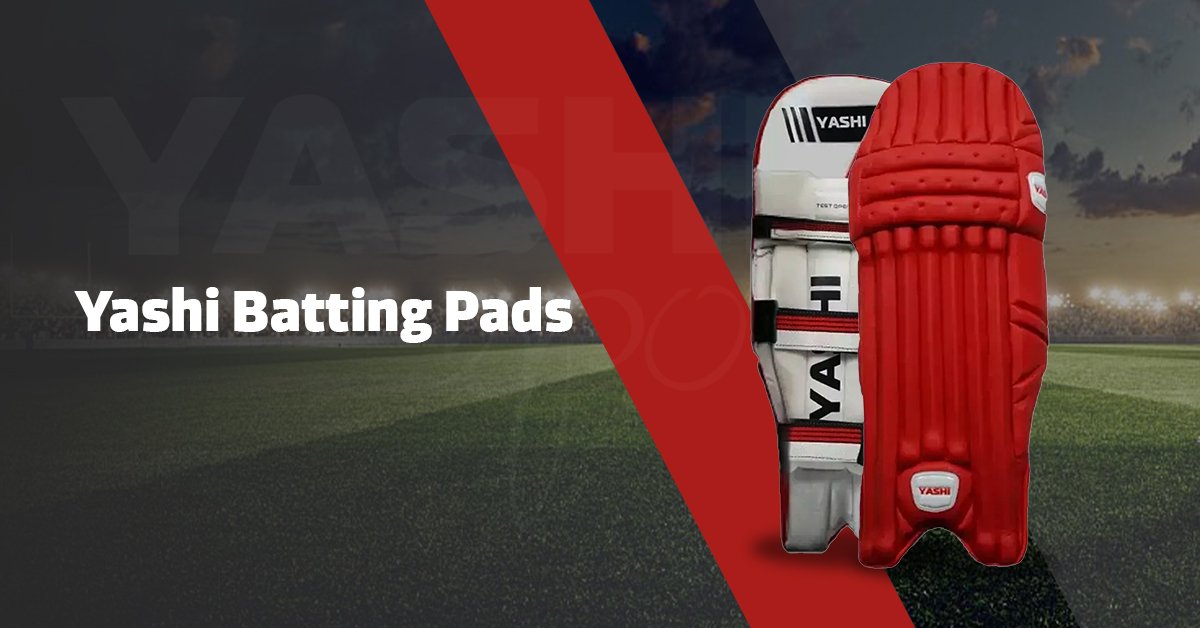 Yashi Batting Pads – Test Opener
The Yashi Batting Pads – Test Opener combines stylish looks and high-end performance. These pads are crafted from top-grade materials, ensuring a robust structure that provides supreme protection.
The high-density foam padding strategically placed in the front offers excellent shock absorption. The Yashi Pads boast a unique airflow system, ensuring the player's comfort in all weather conditions. With sweat-wicking fabric and a well-ventilated design, these pads provide protection and unbeatable comfort.
The added benefit is the quick-release straps which ensure the pads are easy to put on and take off. Investing in the Yashi Batting Pads means investing in balance aesthetics, protection, and comfort, perfect for those looking to make their mark in the cricketing world.
Features: 
Test Opener model by Yashi
Specifically designed for opening batsmen
Lightweight construction for agility and quick movement
High-density foam padding for excellent impact resistance
Wide and adjustable straps for a secure fit
Enhanced knee and shin protection for safety
Ergonomic design for maximum comfort and flexibility
In summary, these cricket batting pads are more than just protective gear; they are a testament to the blending of design, technology, and functionality to enhance player performance.
6 Factors to Consider While Buying The Best Cricket Batting Pads
Let's explore the different factors in selecting the best cricket batting pads.
Material 
Cane and foam comprise most of the materials used in batting pads. Foam pads provide the most comfort and flexibility, while cane pads are known for their great protection and lifespan. High-end pads frequently combine the two to create a strong yet flexible design.
Design 
A batting pad's performance is greatly impacted by its design. Think about the knee roll; it should fit your knee tightly in a perfect world, offering perfect protection and avoiding unwanted motions. For a secure fit, the number of straps is also crucial; three straps are often used.
Size 
A batting pad's size is an important consideration. Your movement will be limited by a pad the wrong size, which can hurt your performance. Most manufacturers supply small, medium, large, and extra-large sizes; some additionally give thorough sizing charts.
Comfort
Comfort must be preserved, particularly in a game of cricket. Choose batting pads with thick cushioning inside. Additionally, ventilation is aided by vents in the cushions, which keeps your legs dry and cool.
Weight
The weight of the batting pads matters immensely. Lighter pads allow for quicker foot movement, which is crucial for taking quick singles or dancing down the track. But remember, lighter doesn't always mean better. Ensure your pads are light enough for quick moves and heavy enough to provide solid protection.
Price
A wide range of batting pads is available, from budget-friendly options to top-tier professional ones. Your selection should balance your budget and the quality you're looking for.
With this knowledge, your journey toward finding the best cricket batting pads should be easier and more rewarding. Remember, the perfect pad becomes an extension of you on the pitch, complementing your batting style and enhancing your game.
Happy Hunting!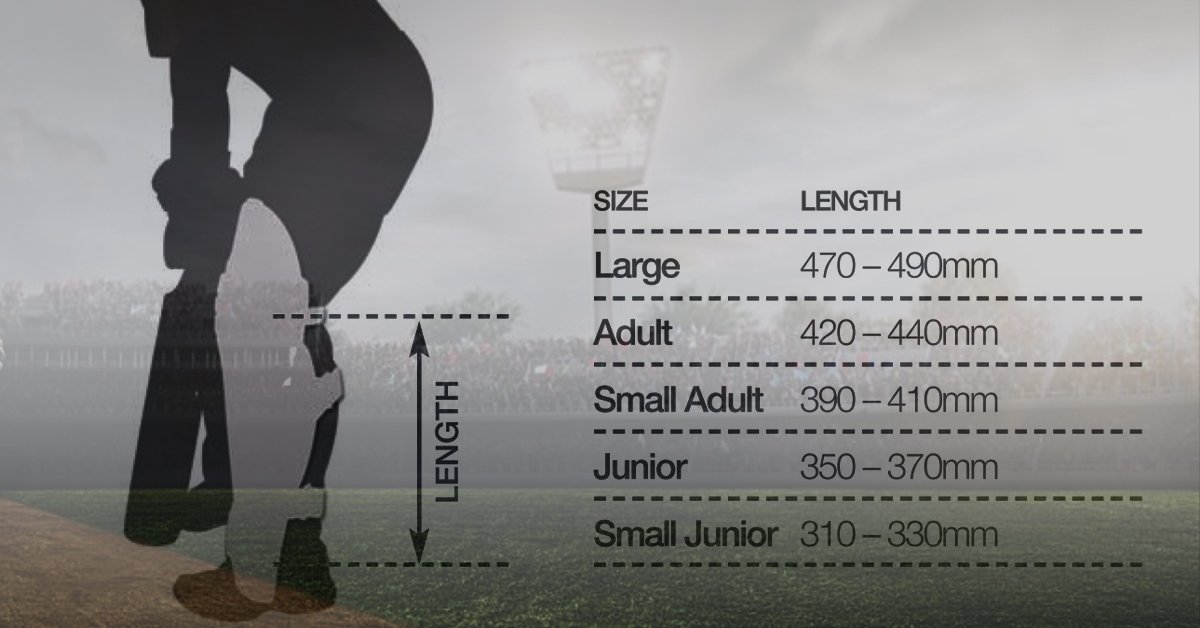 Cricket Batting Pads Size Guide
Finding the correct size for your batting pads is crucial to ensure comfort, flexibility, and adequate protection. Here are the key factors to consider when determining the appropriate size:
Measure yourself from the floor to the top of your knee. This measurement will help you choose the right length of batting pads.
Measure the circumference of your leg just below the knee joint. This measurement will ensure a snug fit around your leg without being too tight.
Check if the batting pads have adjustable straps. These straps allow you to customize the fit and secure the pads during intense gameplay.
Consider the weight of the batting pads. Lightweight pads provide greater mobility, while heavier ones offer additional protection. Choose a weight that suits your playing style and personal preference.
How to Buy The Best Cricket Batting Pads From Yashi Sports Online?
Yashi Sports is a renowned online retailer that offers a wide range of high-quality cricket equipment, including batting pads.
Follow these steps to purchase cricket batting pads from Yashi Sports' online store:
Visit the Yashi Sports website: Go to the official Yashi Sports website (www.yashisports.com) using a web browser on your computer or mobile device.
Navigate to the cricket batting pads section: Locate the cricket section on the website's menu or use the search bar to find the batting pads category.
Yashi Sports offers a variety of filter options to help you focus your search depending on your preferred brand, price range, size, and other criteria.
Read the product details and evaluations: To access thorough descriptions that include features, materials, and size details for certain batting pads, simply click on them. Check customer evaluations to learn more about the effectiveness and calibre of the pads.
Pick the appropriate size.
Click the "Add to Cart" button after selecting your desired batting pads. When you are ready to finish the transaction, review your order and select "Proceed to Checkout."
Fill in the required shipping and payment details accurately. Ensure your shipping address is correct to ensure a seamless delivery process.
Review your order summary and proceed to place the order. You may receive an order confirmation email with the details of your purchase.
Enjoy your cricketing journey with comfortable and well-fitting batting pads from Yashi Sports.
Recommendation
After extensive testing and evaluation, we identified these five cricket pads as exceptional options for players of varying skill levels.
The GN Prestige Batting Pads, Puma EVO 1 Batting Pad, SG Players Xtreme Cricket Batting Legguard, SS Batting Pads Test Elite, and Yashi Batting Pads – Test Opener all provide excellent protection, comfort, and durability.
Ultimately, the choice depends on individual preferences and requirements. We recommend considering factors such as playing style, level of play, and personal comfort when selecting the ideal cricket pads for enhanced performance on the field.
Take Advantage of The Action! 
Yashi Sports is your one-stop destination for all your cricket needs. We offer an extensive range of cricket pads and accessories tailored to suit your style of play and level of experience. Whether a beginner or a seasoned professional, Yashi Sports has covered you.
Enhance your cricket game with our products, which offer superior protection and the utmost comfort. And the best part? Our cricket pads and accessories are reasonably priced, providing unparalleled value.
So, what are you waiting for?
Elevate your performance and experience the game in a whole new way. Visit Yashi Sports now and discover the difference yourself. Play safe, boldly, and always play your best with Yashi Sports.
Gear up; the crease is yours!
Takeaway 
In conclusion, when it comes to the best cricket batting pads, several factors must be taken into consideration. The ultimate choice will depend on individual preferences and playing styles.
However, a few crucial elements should be highlighted to provide the best possible safety and comfort.
Finding the finest cricket batting pads that match one's unique needs requires studying and evaluating numerous brands and models while considering all these criteria, including comfort, durability, pricing, and material.
Ultimately, making the appropriate decision will give players the assurance, security, and comfort they need to succeed on the cricket pitch.
How to pick a cricket bat for kids?
To pick a cricket bat for kids, consider their age, height, and strength. Choose a lighter bat with a smaller handle for younger kids and a slightly heavier bat as they age. 

Ensure the bat is the right size, has a comfortable grip, and feels balanced when held.
How to choose a cricket bat for my child?
When choosing a cricket bat for your child, consider their age, height, and playing ability. Select a bat with the appropriate size, weight, and comfortable grip. 

Let your child try different bats to find one that feels comfortable and well-balanced when they hold it.
What size are boys' cricket pads?
Boys' cricket pads come in various sizes, typically small (size 3) to large (size 6). The pads' size depends on the child's height and leg length. 

Measuring the child's leg from the ankle bone to the top of the knee is important to determine the right size.
How do you size cricket pads?
To size cricket pads, measure the distance from the ankle bone to the top of the knee. This measurement will help determine the appropriate size of the pads. 

Different manufacturers may have specific sizing charts, so referring to the manufacturer's guidelines is recommended to ensure a proper fit.