In the grand orchestra of cricket, where the bowlers are the wind instruments and the batsmen the strings, the wicketkeeper holds the baton, ensuring the symphony remains in rhythm.
Their gear? It's their suit of armour. And amongst this protective ensemble, the wicket-keeping pads, particularly, carry significant importance.
This article explores the best wicket-keeping pads in the market. You'll detail each product's features, pros, and cons, so you'll be one step closer to making a confident purchase that'll give you a match-winning performance on the pitch.
Keep Reading!
Our Top Picks:
Detailed Examination of the Best Wicket-Keeping Pads
PUMA Evo 2 Wicket-Keeping Pads
Crafted by a brand renowned for sports equipment, the PUMA Evo 2 pads offer a blend of style, comfort, and durability that stand out. These pads are made with high-density foam, which provides top-notch protection and shock absorption.
But the PUMA Evo 2 pads aren't merely for protection. They are so light that the keeper's speed and agility are unaffected. The pads may be fitted snugly thanks to the adjustable straps. When they are fresh, the rigidity of these pads may be a little drawback but don't worry. They provide unmatched protection, and it eases off with time.

Positives:
Lightweight Design: These pads are extremely light, ensuring they don't compromise the wicketkeeper's agility.
High-Density Foam Front: It provides superior protection and excellent shock absorption.
Adjustable Straps: These straps ensure a secure fit, adapting to the player's leg structure.
Reinforced Instep: The area is particularly reinforced for added durability and better performance.
Negatives:
Initial Stiffness: While they offer superior protection, these pads can feel stiff when new. However, this stiffness increases with use, making them comfortable in the long run.
Puma EVO3 WK Pads – Youth Size
As future champions climb the ladder, they need gear that matches their spirit, ambition, and challenges. Enter the Puma EVO3 WK Pads in Youth Size.
Be aware that these pads are smaller to suit younger players more comfortably. Because they are pre-moulded with thin foam, they provide excellent protection and comfort without impeding mobility.
Only young players may use them due to their size, but paying for equipment made just for them is a minor price.

Positives:
Tailored Size: These pads are designed to fit youth players and are perfect for young ones.
Pre-moulded Lightweight Foam: This ensures excellent protection without adding unnecessary weight.
Snug and Secure Fit: The fit is secure and snug, which ensures comfort while providing maximum protection.
Negatives:
Limited to Youth: These pads are specifically designed for young players. While that's great for youngsters, it means adults can't use them.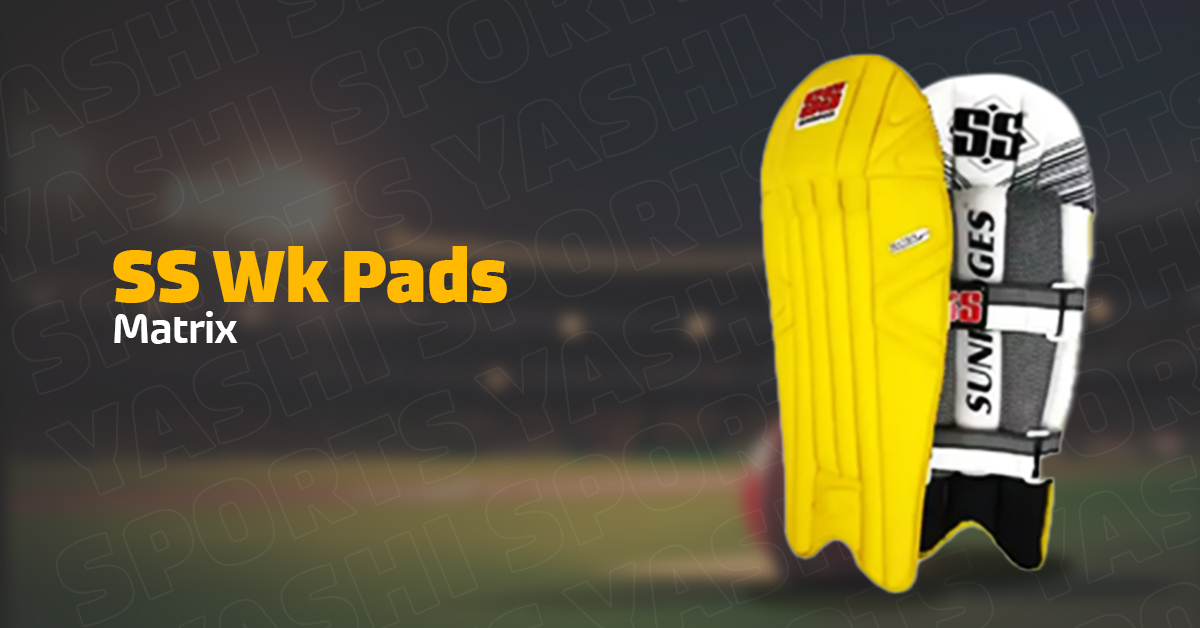 SS Wicket Keeping Pads- Matrix
The SS Matrix wicket-keeping pads serve as a supportive and protective ally. High-density foam is included to protect the legs from fast deliveries.
These pads' wide straps also improve stability, keeping them in place even during the swiftest jumps and dives. They are popular among players who wish to add style to the field because of their sleek, modern appearance.
The straps might be tight initially, but they gradually loosen up to provide a great fit.

Positives:
High-Density Foam: Ensuring superior protection, this foam will guard the player's legs against high-speed deliveries.
Broad Straps: These straps offer better stability, securing the pads in place even during swift movements.
Sleek Design: The contemporary design ensures that players bring style along with skill to the pitch.
Negatives:
Tight Straps: Some players might find the straps of these pads a bit tight initially. However, they tend to adjust with time to offer a perfect fit.
SS WK Pads-Dragon Black
Imagine becoming stealthy, efficient, and invisible, like a stealth bomber. With the SS WK Pads-Dragon Black, you get that. These pads have a special design that completely conforms to the curve of your legs to provide you with individualized comfort and security.
The pads include enlarged side wings for further protection and a snug fit around the leg. The only minor drawback is the deeper colour, which may reveal wear and tear a little more than lighter tones.
Their total effectiveness and fashionable appearance are more than makeup for it.

Positives:
Customizable Fit: The pads' unique design moulds to the shape of the player's legs, ensuring personalized comfort and protection.
Extended Side Wings: These standout features provide extra protection and a comfortable fit.
Stylish Black Design: The sleek black design ensures players look stylish on the field.
Negatives:
Visible Wear and Tear: The sleek black design, while stylish, might show wear and tear a bit more easily than lighter shades. However, this is more of a cosmetic issue and doesn't affect the pads' performance.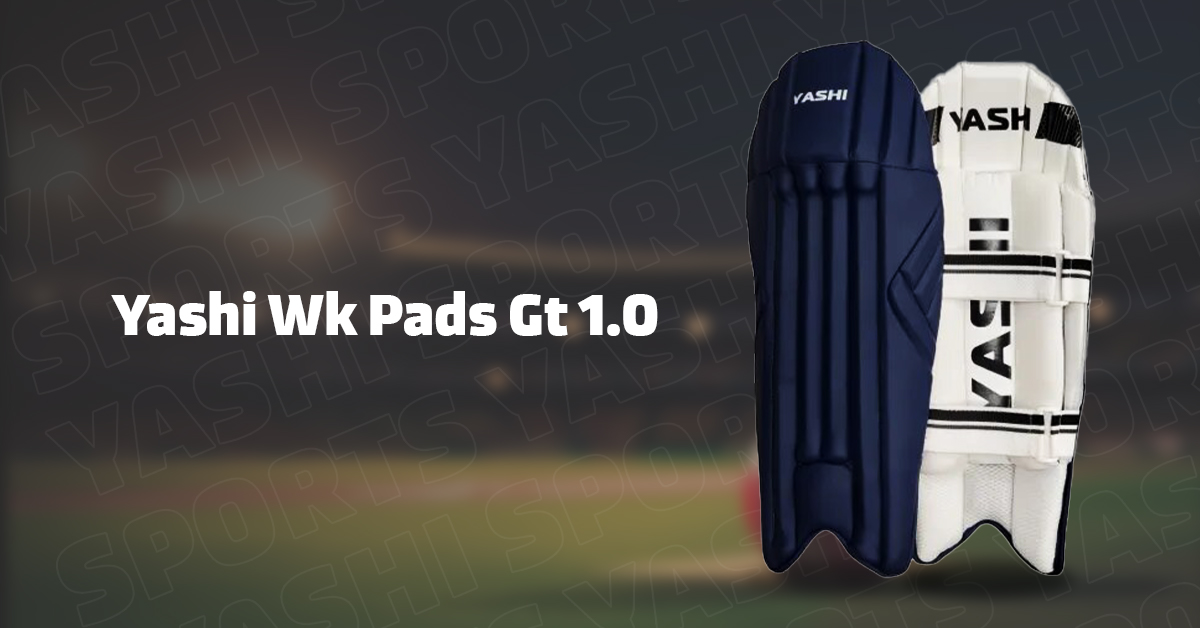 Yashi WK Pads GT 1.0
The Yashi WK Pads GT 1.0 are the pinnacle of luxury in wicket-keeping pads, which is what you should be searching for. These pads include a high-density lightweight foam that combines mobility, comfort, and protection.
These pads stand out because of their wide straps, which guarantee a snug fit, and their distinctive design, which shouts sophistication and flair. They could be on the more expensive side.
Nevertheless, you'll agree that they're worth every penny when you consider the superior safety, plush comfort, and stunning appearances they provide.

Positives:
Ultralight High-Density Foam: Providing the perfect balance between protection, comfort, and mobility, this feature sets these pads apart.
Broad Straps: Ensuring a secure fit, these straps keep the pads firmly in place.
Premium Design: The striking design of these pads brings elegance and style to the cricket field.
Negatives:
Higher Price Range: These pads' premium features and high-end design have a higher price tag. But if you're looking for top-tier quality and are okay with the investment, these pads are worth every penny.
How Can You Buy?
To buy Yashi Sports products online, you can follow these general steps:
Open a web browser and navigate to the Yashi Sports website or a reputable online retailer selling Yashi Sports items.
To discover the precise item you want to buy, check the Yashi Sports product categories or use the search field.
When you've located the item you want, click it to get further details including the price and characteristics.
Review the product's specifications, paying attention to the size, available colours, and any optional extras or accessories.
Once you've decided how many items you wish to buy, click the "Add to Cart" or "Buy Now" option.
Ensure all the items you wish to purchase are in your shopping basket. If necessary, you can change the proportions or eliminate certain things.
Enter your shipping address, contact information, and preferred payment method on the checkout page.
Include your name, delivery address, email address, and phone number in the needed fields with accuracy.
Select a secure payment option, such as a credit or debit card, PayPal, or one of the other alternatives.
Review the details of your order, including the total cost (including the product price, shipping costs, and any applicable taxes).
When you know all the data is accurate, press the "Place Order" or "Proceed to Payment" button to finish the transaction.
You will be redirected to a secure payment channel after choosing a credit/debit card or another online payment option. To make the payment, adhere to the supplied instructions.
After completing the payment, you should get an order confirmation containing the specifics of your purchase by email or the website.
Use the tracking number supplied to follow the status of your order's shipping and the anticipated delivery date, if applicable.
It's important to note that the specific steps and user interface may vary depending on the website or online marketplace you choose for purchasing Yashi Sports products.
Always ensure you purchase from a trusted source and review the seller's ratings or customer reviews if available.
Recommendation
In cricket, quality gear is crucial, particularly regarding wicket-keeping pads. If you're looking for a new pair, I highly recommend the wicket-keeping pads discussed in the blog.
These pads provide unmatched protection and offer excellent comfort and flexibility, which is vital for any keeper. Their innovative design and high-quality materials provide long-lasting durability.
They are meticulously crafted, blending modern technology with traditional style, making them an excellent investment for any serious cricketer.
Don't compromise on your cricket gear; these pads stand head and shoulders above the rest, both in quality and performance. Remember, good gear can make a good cricketer great, so consider these top-tier pads next time you're in need.
Make Your Move With Yashi Sports
Feeling spoilt for choice?
Overwhelmed by the sheer range of quality gear out there? We hear you. That's where Yashi Sports comes in. They're not just a store – they're your partners on this cricket journey, ready to equip you with the best gear for your needs.
Whether you're a professional player, an aspiring youngster, or a passionate cricket enthusiast, Yashi Sports has something for everyone.
They're committed to providing you with a wide range of cricket gear, including an extensive collection of the best wicket-keeping pads.
And it doesn't stop at wicket-keeping pads. From bats and balls to helmets and gloves, Yashi Sports offers a comprehensive selection of top-tier cricket equipment.
So, you can rest assured that you're investing in quality gear to serve you well on the pitch.
So, what are you waiting for? 
Dive into the world of cricket with Yashi Sports. Browse through their extensive range, explore their quality gear, and arm yourself with the confidence you need to play your best game. Because when it comes to cricket, there's no substitute for the right equipment.
Gear up, pad up, and let's play some cricket!
Takeaway
Choosing the best wicket-keeping pads can be as strategic as choosing your line and length in bowling or selecting the right shot as a batsman. Each product we've discussed brings something unique, but they all share one common trait – their top-tier quality.
Whether it's the PUMA Evo 2 Wicket Keeping Pads with their sturdy and durable design, the Puma EVO3 WK Pads offering superior comfort and protection for youth players, the dependable SS Matrix pads, the stealthy SS Dragon Black, or the premium Yashi WK Pads GT 1.0, you're investing in quality gear that will give you an edge on the pitch.
What keeping pads does Quinton de Kock wear?
Quinton de Kock wears GM-keeping pads. 
Is there a difference between wicket-keeping pads and batting pads?
Yes, there are differences between batting and wicket-keeping gloves. Wicket-keeping pads are specially made to offer additional protection and flexibility for wicketkeepers who must move fast and freely while maintaining the wickets. 

Compared to batting pads, these pads often feature a lighter and more streamlined design. 
Batting pads, on the other hand, are often thicker and heavier than wicket-keeping pads and are primarily intended to protect the legs of batters from collisions when they are batting.
Why don't wicketkeepers wear pads?
Wicketkeepers do wear pads to protect themselves from injury while performing their role. Wicket-keeping pads are an essential part of a wicketkeeper's protective gear.
Do you need wicket-keeping pads?
Yes, everybody who plays as a wicketkeeper in cricket is strongly advised to wear wicket-keeping pads. When standing near the stumps, the legs, knees, and shins need to be protected, which is why wicket-keeping pads are so important. 
Why do wicketkeepers wear pads?
Wicketkeepers wear pads primarily for protection. The role of a wicketkeeper involves standing close to the stumps and receiving deliveries from bowlers. The pads act as a shield, guarding the legs and knees against potentially painful impacts from the cricket ball. 
Who has been the worst wicketkeeper?
The "worst" wicketkeeper can be determined subjectively and according to different standards and criteria. Over the years, cricket has had a wide range of wicketkeepers, and each player's performance and ability level might vary. 

Labelling any player as the worst wicketkeeper would be unjust since it would diminish their total contribution to the sport. Recognizing the efforts and advancements made by wicketkeepers at all game levels is more constructive and courteous.
Do you need inner gloves for wicketkeeping?
While wicketkeeping, inner gloves are optional and only worn as a personal preference. Inner gloves add a cushioning layer, giving the hands and fingers more comfort and protection.