Are you on the hunt for the best white shoes for men?
Your quest is over if you're seeking trendy shoes to up your style, comfortable shoes for everyday use, or even shoes for boys who are growing into men's sizes.
It's critical to understand how to get through this huge sea of options to get the right pair of shoes in a world where men's shoe brands are continuously evolving, and you can find shoes for men on sale with just one click while shoes online shopping.
In this article, we'll examine the crucial elements to consider while looking for the best white shoes for men, ensuring that you keep on top of the latest trends and make a smart investment in high-quality footwear.
Here are the best 5 shoes for men that will give you maximum comfort and confidence while also elevating your style:
5 Best White Shoes For Men
Puma Team Full Spike II Cricket Shoes
The following are the features in the Puma Team Full Spike II cricket shoes designed for better comfort and performance for aspiring cricket players:
The upper of these cricket shoes is composed of a soft synthetic material. This material gives durability and comfort to withstand the demands of the game.
Fully fused mesh windows that are strategically positioned in the upper of the shoes enable ventilation.
The first benefit of these mesh windows is that they improve breathability, allowing air to circulate and keeping your feet cool throughout intense matches.

The Puma Team Full Spike II cricket shoes have a closing strap to provide more stability and a tight fit. This strap can be adjusted to your preference, providing a close fit that firmly secures your foot.
Anatomically Engineered Outsole
The cricket shoes' outsoles have been designed to offer stability and support. It is made to fit comfortably over the shape of your foot, providing a secure fit during quick movements on the field.
Puma used high-tech materials to create these shoes. These components were selected to increase stability and reactivity while reducing overall shoe weight. This is crucial for cricket players who need to be agile and responsive on the field.
2019 Adidas SL22 Full Spike II Cricket Shoes
Here are several advanced features included in the 2019 Adidas SL22 Full Spike II cricket shoes to enhance performance and comfort for cricket players:
The insole is lined with adiPRENE®, a technology to help prevent rebound shockwaves. During intense cricket activities, this function makes the player's feet easier by reducing stress on joints and soft tissues.
The compression-moulded EVA midsole in these shoes is renowned for its ability to provide lightweight cushioning. This midsole offers comfort while keeping the shoes light and flexible.

The cricket-engineered Traxion® full-rubber outsole is specifically created for cricket conditions. It ensures that players have a secure grip on the ground and is perfect for use on hard fields or during net training.
The shoes have CLIMACOOL® vents in addition to the TORSION® System. This combination offers flexible forefoot support and bridged midfoot support. It improves balance and agility while playing.
These shoes have a medial and lateral support system known as the Pro-Moderator that helps to prevent overpronation and supination (excessive inward or outward rolling of the foot).
During cricket movements, this support system helps in maintaining good foot alignment.
The shoes use a runner's specific last to ensure a better fit. This style offers a comfortable fit for extended play by considering the unique needs and shape of cricket players' feet.
The shoes also included compression-moulded EVA for lightweight cushioning and the EVA midsole. This extra cushioning improves comfort and shock absorption, reducing fatigue during extended matches or activities.
Jaffa 22 Cricket Shoes
The lightweight design, stability, and comfort of the Jaffa 22 Cricket Shoes are the ideal combination. These shoes are designed to improve your performance with the support you need to succeed on the cricket pitch.
These outstanding cricket shoes have the following unique features:
The Jaffa 22 cricket shoes are made with a blend of punched synthetic leather and breathable mesh, making them extremely light. In addition to reducing the total weight of the shoes, this unique structure guarantees great flexibility and durability.
High-Frequency Embossed Design
The Jaffa 22's unique high-frequency embossed design will make you stand out on the cricket field. These shoes not only improve your performance but also make an impressive fashion statement due to their unique design.

The Jaffa 22 has a high-quality rubber outsole designed for top performance. You can keep your balance on any surface due to its rounded lugs' better traction and multidirectional grip. Whether you're hitting, bowling, or fielding, you can rely on these shoes' grip.
The Jaffa 22 features the highest quality external TPU midfoot shank to enhance stability and reduce foot fatigue during long matches.
This shank gives you the support you need to keep your feet comfortable and your movements in control to perform at your peak.
The Jaffa 22 cricket shoes offer superior cushioning. They have an excellent EVA midsole that delivers exceptional shock absorption and a responsive feel on the field.
The Supersoft EVA sockliner also provides a comfortable fit, ensuring your feet are at ease throughout the entire match.
Kookaburra Spirit Rubber Sole
The Kookaburra Spirit Rubber Sole cricket shoe has several features to improve performance and comfort on the cricket field:
The shoe has an innovative, highly advanced outsole that provides excellent traction and ensures that you have great grip and stability when moving around the field.
A lightweight mesh material is used to create the shoe's upper part. This contributes to overall weight reduction and offers breathability to keep your feet cool during intense gaming hours.

The shoe has an elasticated knitted sock that provides an exceptional fit, securely and comfortably hugging your foot to provide the best support and responsiveness.
Rubberized Toe Box Reinforcement
The toe box is strengthened with rubber to increase its durability and protection. Your shoe will survive longer due to its reinforcement, which protects against impacts and abrasions.
The heel support in the shoe helps to maintain stability while running on the field, making quick moves and changing directions suddenly.
It has the Q Lock technology and an advanced lacing system. With the ability to fine-tune the tightness to your preference, this offers a secure and customizable fit.
The shoe has padded ankle support that provides additional cushioning and protection to avoid discomfort and decrease the risk of ankle injuries.
The shoe has a moulded foam insole, providing an additional comfort layer. During long durations of play, this cushioned insole supports and reduces the impact on your feet.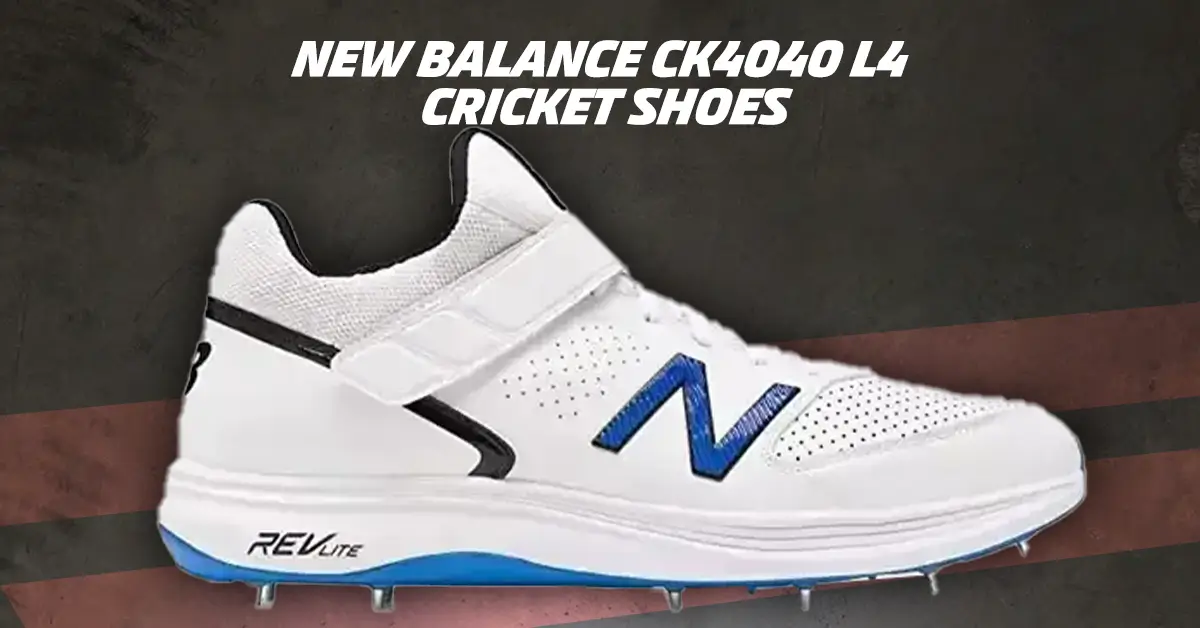 New Balance CK4040 L4 Cricket Shoes
The New Balance CK4040 L4 Cricket Shoes have several features that are designed to improve comfort, support, and performance on the cricket pitch. These features are as follows:
Fitted Bootie Construction
The fitted bootie construction of these cricket shoes is designed to sit just below the ankle bone. Due to the snug and secure fit provided by this design, there is a lower chance of slipping or discomfort when playing.
Additional Foam Padding Around Ankle
These shoes have extra foam padding around the ankle area to provide comfort and cushioning. While performing high-impact activities, this padding helps reduce friction and gives the ankle more support.

The CK4040 L4's midsole is now softer compared to earlier models. This softer midsole's better shock absorption and responsiveness on the cricket pitch enable more comfortable and agile movements.
Revised Outsole And Spike Configuration
The outsole and spike structure of these cricket shoes have been redesigned to give outstanding traction and stability in various playing conditions. This guarantees that you can maintain your footing and move quickly and confidently.
The Revlite midsole technology is known for its responsive and light cushioning. It provides your feet with a comfortable and stable platform, which reduces fatigue during hard practices or matches.
Leather Upper For Durability
The shoes have a leather upper, which is famous for its durability and resistance to wear and tear. These shoes are a long-term investment because the upper material is made to withstand the harsh conditions of cricket.
These cricket shoes have a midfoot support strap to keep your foot tightly in position and offer additional support. This strap helps to support your foot when you make lateral movements or abrupt direction changes.
Recommendation:
The following five white shoes for men are highly recommended, each designed to meet the particular requirements of cricket lovers.
The Puma Team Full Spike II Cricket Shoes easily blend fashion and functionality while providing superior grip and support on the field.
Cricket players can thrive in their game with the help of the 2019 Adidas SL22 Full Spike II cricket shoes, which are a great option for those looking for excellent quality and comfort.
Jaffa 22 cricket shoes are a dependable choice that combines price and toughness to guarantee long-lasting performance.
The Kookaburra Spirit Rubber Sole shoes are ideal for players who need a strong, steady grip.
The New Balance CK4040 L4 cricket shoes provide players with exceptional agility and comfort and are a final example of innovation and contemporary design.
Grab Your White Shoes For Men With Yashi Sports!
Whether you're working out, competing on the court, or just adding a little flair to your regular attire.
Yashi Sports has got you covered!
Yashi Sports shoes provide outstanding comfort, support, and durability. Additionally, they offer trendy and stylish designs that will keep you in style with exceptional durability, lasting performance, and unbeatable prices for unmatched quality.
Grab a pair now and enter the world of perfection! Shop now to discover the uniqueness of Yashi Sports.
Takeaway
In conclusion, choosing the pair of best white shoes for men requires careful consideration and research. It's not just about appearance; it's also about ease, durability, and versatility.
Investing in a high-quality pair might be more expensive up front, but they will last longer and provide you with more satisfaction.
Put your best foot forward and confidently enter any situation by wearing a perfect pair of white shoes that capture your own style and individuality.
What is the most popular men shoe?
The most popular men's shoe design might change, but dress shoes, loafers, and sneakers are among the top choices.
What is a good place to buy shoes online?
Popular online shoe store Yashi Sports and the official websites of well-known shoe companies are all excellent places to buy shoes.
Which shoes are better for your feet?
Your feet will benefit more from shoes that offer enough arch support, cushioning, and a comfortable fit. Whether for work, play, or casual use, selecting shoes that meet your requirements is critical.
What are the nicest men's shoes?
The best men's shoes are a matter of opinion and style.
What are the top 3 shoe brands?
Nike, Adidas, and Puma are some of the top 3 shoe brands for athletic shoes.
Who makes the highest quality shoes?
Famous luxury shoemakers like Nike, Adidas, and Converse produce high-quality shoes.