In the world of fashion and footwear, searching for the perfect pair of shoes is an unending journey. A great pair of shoes is not just necessary; it's a statement of style, comfort, and quality.
In this pursuit of the top 10 best shoes in the world, discerning consumers often find themselves looking to the top shoe brands in the world, especially when searching for the best shoe brands for men or the finest luxury shoe brands available.
In this article, we unveil the crème de la crème, the epitome of craftsmanship and the essence of luxury – the top shoe brands in the world.
Let's explore!
Top 10 Best Shoes Brands
The following are the 10 best shoes brands in the world:
Adidas
Asics
CA
DSC
GM
Kookaburra
New Balance
Puma
SS
Yashi Sports Adidas
Adidas 22YDS Boost (2023)
Adidas shoes are a symbol of innovation, style, and performance. With a rich history dating back to the mid-20th century, the brand has consistently pushed the boundaries of technology and design to create shoes that cater to athletes and fashion enthusiasts alike.
Adidas offers a wide selection to suit various needs and is known for its comfort, durability, and timeless aesthetics.
Here are the features of the best shoes from Adidas:

The Adidas 22YDS Boost (2023) is a cricket shoe designed for peak performance:
Exceptional Comfort: Combines a running tongue and soft upper.
Innovative TPU Outsole: Offers outstanding traction with reduced weight.
Forefoot Support: Facilitates quick, multi-directional movements.
Smooth Transition: Beveled heel for fluid running strides.
Boost Midsole: Provides incredible energy return for agility and speed.
Asics Gel-Peake 2 (2023)
Asics is a renowned brand known for its high-quality athletic footwear. Founded in Japan, Asics has established itself as a trusted name in sports and fitness.
Their shoes are celebrated for their exceptional comfort, advanced cushioning technologies, and durable designs, making them popular for runners, athletes, and fitness enthusiasts.
The features of one of the best shoes from Asics are here:

Asics Gel-Peake 2 (2023) includes these features:
Designed for field sports and outdoor training: It is meticulously crafted to meet the demands of field sports and rigorous outdoor training.
Exceptional Durability: Built tough for durability and stability.
Advanced Stability Properties: Stable upper with synthetic leather and reinforcement.
GEL™ Technology Cushioning: GEL™ technology cushions rearfoot for shock reduction.
Enhanced Flexibility: Outsole flex grooves for agility and pivoting.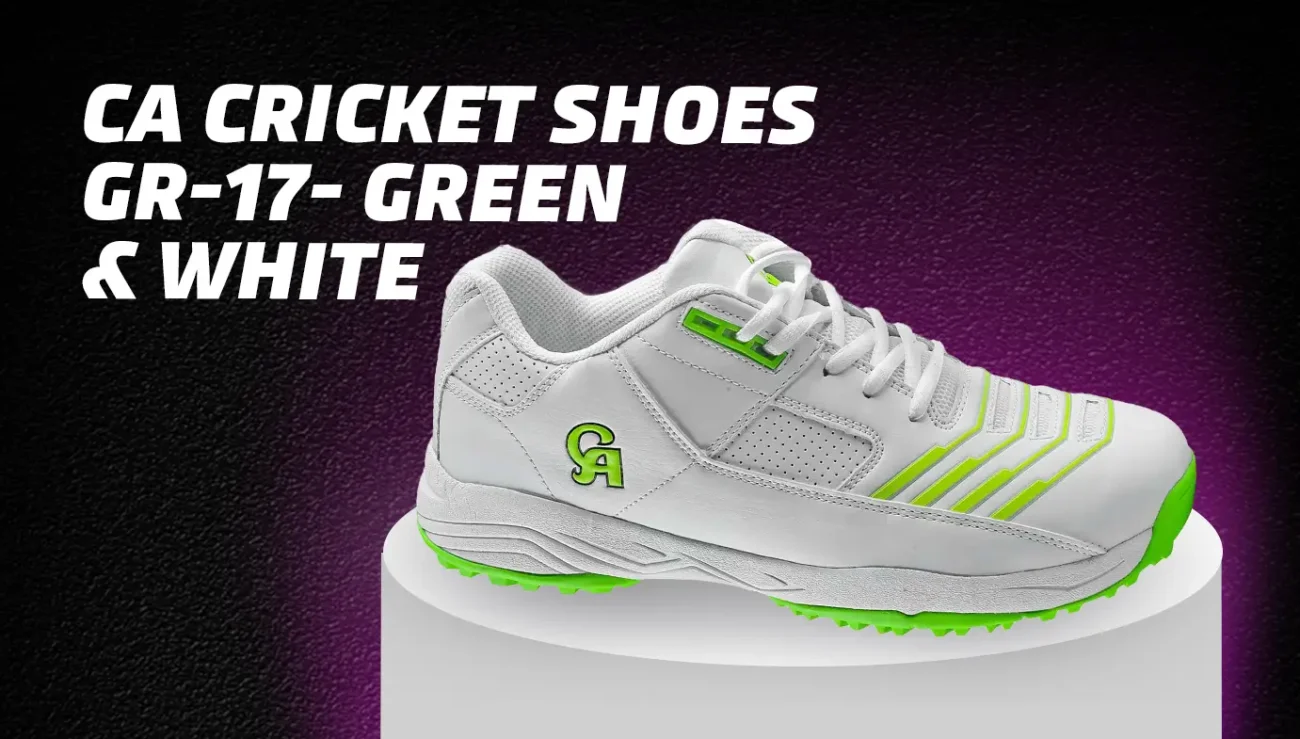 CA CRICKET SHOES GR-17- Green & White
CA brand shoes are known for their exceptional quality, comfort, and style. With a rich history of craftsmanship and innovation, CA has established itself as a trusted name in the world of footwear.
Further, their diverse range of shoe designs caters to various tastes and occasions, making them a popular choice for both casual and formal wear.
Whether you're searching for athletic sneakers, elegant dress shoes, or trendy casual footwear, CA brand shoes are a reliable option that combines fashion and functionality to keep you comfortable and stylish.
Here is one of the best of CA brand shoes:

The CA Cricket Shoes GR-17 in Green and white are:
Precision-Engineered for Professionals: These cricket shoes are meticulously designed and manufactured to meet the exacting demands of professional players, ensuring top-tier performance.
Rubber Grip Outsole: It is equipped with a durable rubber grip outsole. These shoes offer exceptional traction and stability on the cricket field, allowing players to maintain their footing during intense gameplay.
Lightweight Construction: The GR-17 is crafted with a lightweight design, ensuring that players can enjoy long-lasting comfort and agility without the burden of heavy footwear, making them an ideal choice for extended periods of play.
DSC Shoes Jaffa 22 Cricket Shoes
DSC brand shoes are renowned for their exceptional quality and stylish designs. Their commitment to using high-quality materials and innovative technology ensures that DSC shoes offer excellent durability and support.
Step into the world of DSC and experience the perfect blend of functionality and style in every pair of shoes.
The following are the features of the best DSC shoes:

Here are the key features of the Jaffa 22 Cricket Shoes in short points:
Lightweight Upper: Punched synthetic leather and breathable mesh reduce weight while ensuring durability and flexibility.
Unique Design: High-frequency embossed design for a distinctive look on the cricket ground.
Superior Traction: High-grade rubber outsole with rounded lugs for multidirectional grip and improved traction.
Stability: External TPU midfoot shank for stability and reduced foot fatigue.
Cushioning: High-quality EVA midsole for excellent cushioning, with a Supersoft sock liner for comfort.
GM MAESTRO Cricket Shoes
These shoes are crafted with precision and attention to detail, ensuring durability and long-lasting performance.
Whether you're looking for casual sneakers, formal dress shoes, or athletic footwear, GM offers diverse options to meet various style preferences and practical needs.
You can step out confidently with GM brand shoes, knowing you're donning footwear that combines fashion and function.
Let's find out the features of the best shoes in GM brand:

Lightweight Upper: Designed for agility, the shoes feature a lightweight upper that enhances swift movements on the cricket field.
XLO Air Mesh: Incorporating XLO air mesh ensures supreme ventilation in the vamp area, keeping your feet cool and comfortable even during intense matches.
Three-Dimensional Comfort Lining: Enjoy superior and enduring comfort with the three-dimensional comfort lining.
Ergonomic Slip-Lasted Construction: The shoes are crafted with ergonomic slip-lasted construction, guaranteeing a consistent sock-like fit every time you wear them.
Moulded TPR Heel Cradle: Your foot's stability is further enhanced by the moulded TPR heel cradle, which securely locks your foot.
Kookaburra Impulse Rubber Shoes
Kookaburra's commitment to innovation and craftsmanship has made them a trusted choice for players who demand top-notch footwear to excel on the field.
Whether you're a professional athlete or a passionate amateur, Kookaburra shoes offer the support and reliability needed to perform at your best in these sports.
One of the best products of Kookaburra shoes is here:

The Kookaburra Impulse Rubber Shoes offer a range of innovative features designed to enhance performance and comfort.
These features include:
Modified Kookaburra Cage Technology: Provides essential mid-foot support, enhancing stability and balance during physical activities.
Specific Outsole: Designed for superb traction, ensuring a solid grip on various surfaces and boosting confidence in movements.
Latex-Covered Durable Upper: Offers enhanced water resistance and durability, making the shoes suitable for outdoor activities in varying conditions.
Advanced EVA Midsole: Superior shock absorption capabilities, cushioning feet from impact and reducing strain during intense workouts or sports.
Stitched Toe Section: Reinforced stitching in the toe area enhances durability, preventing wear and tear in a high-stress zone.
Lightweight Insole: Features targeted support in the heel and front, reducing shockwaves and promoting comfort during prolonged wear.
NEW BALANCE CK4040 L4 CRICKET SHOES
What sets New Balance apart is its dedication to creating footwear that caters to various foot shapes and sizes, offering a wide range of widths and sizes to ensure a perfect fit.
With a focus on blending performance and fashion, New Balance shoes are not only comfortable but also stylish, making them a popular choice for athletes and fashion-conscious individuals alike.
Here is the best product of New Balance brand shoes:

Here are the key features of these cricket shoes:
Fitted Bootie Construction: The CK4040 L4 cricket shoes feature a fitted bootie construction that snugly wraps around your foot and sits just below the ankle bone.
Additional Foam Padding Around Ankle: These shoes are equipped with additional foam padding around the ankle area, providing extra cushioning and support for the ankles.
Softer Midsole Density: This design change enhances cushioning and comfort, reducing the impact on your feet during the game.
Revised Outsole and Spike Configuration: The outsole and spike configuration have been updated to improve the cricket field's traction and stability.
Leather Upper for Durability: The shoes have a leather upper, which not only adds durability but also offers excellent protection against wear and tear, making them ideal for the demands of cricket.
Midfoot Support Strap: These cricket shoes feature a midfoot support strap that helps keep your foot securely in place, providing stability and reducing the risk of slipping or twisting.
Puma 19 FH Rubber White – VK One8 Collection
Puma, a globally renowned sports and lifestyle brand, has established itself as a symbol of style, comfort, and performance in footwear.
With a perfect blend of functionality and fashion, Puma shoes not only enhance athletic performance but also make a bold style statement.
One of the amazing products of Puma shoes is mentioned below:

Here are the features of the PUMA 19 FH Rubber White – VK One8 Collection cricket shoes:
Upper: Soft and durable synthetic material for comfort and support.
Midsole: EVA midsole for excellent cushioning and shock absorption.
Outsole: Multi-studded rubber outsole for superior traction on various surfaces.
VK One8 Collection: Collaboration with Virat Kohli, offering style and performance.
Design: Stylish appearance blending functionality with fashion.
Versatility: Suitable for both amateur and professional cricketers.
Comfort: Snug fit, cushioned interior, and secure lacing system for comfort.
Durability: Built to withstand regular wear and tear, ensuring longevity on the field.
SS Stunner Rubber Sole Shoes
Whether you're looking for performance-driven sports shoes or stylish and comfortable everyday footwear, SS brand shoes deliver on all fronts.
Their attention to detail and dedication to providing a superior wearing experience make SS brand shoes a top choice for those who demand the best footwear.
Here is the best product of SS shoes:

The following are the main features of SS Stunner Rubber Sole Shoes:
Durable PVC Upper: High-quality PVC material for stability and flexibility.
Lightweight EVA Midsole: Provides lasting cushioning and shock absorption.
Cushioned Collar: Foam collar neckline for support and comfort around the ankle.
Moulded TPU Heel Cup: Keeps the foot in place, offering additional support and stability.
Yashi Sports Adidas Shoes
Yashi Sports proudly offers a remarkable selection of Adidas brand shoes that cater to both style and performance. Our Adidas collection encompasses a range of footwear, from iconic classics to the latest cutting-edge designs.
These shoes are known not only for their fashionable aesthetics but also for their exceptional comfort and durability.
One of the best shoes from the Yashi Sports Adidas brand is mentioned below:
2019 ADIDAS SL22 FULL SPIKE II CRICKET SHOES image
The 2019 ADIDAS SL22 FULL SPIKE II CRICKET SHOES come with the following features:
Inlay: The shoes feature an adiPRENE®-lined insole that effectively dissipates rebound shockwaves, reducing stress on joints and soft tissues. This feature enhances comfort during play.
Midsole: They are equipped with a compression-moulded EVA midsole that provides lightweight cushioning, ensuring the shoes are comfortable for long hours on the cricket field.
Outsole: These shoes have a cricket-engineered, full-rubber Traxion® outsole. This outsole is perfect for use during net training or on hard pitches, offering excellent grip and stability.
TORSION® SYSTEM with CLIMACOOL® vents: The shoes incorporate the TORSION® SYSTEM for bridged midfoot support and forefoot flexibility. The CLIMACOOL® vents help with ventilation, keeping your feet cool and comfortable.
Pro-Moderator: The shoes include a medial and lateral support device called Pro-Moderator to prevent overpronation and supination. It ensures proper foot alignment and stability during your cricket activities.
Built on a runner's specific last: These shoes are made on a runner's specific last, which means they provide a superior fit. This ensures that the shoes are comfortable and provide a snug fit for optimal performance.
Compression-moulded EVA: Besides the lightweight cushioning provided by the midsole, the compression-moulded EVA material also contributes to the overall comfort and support of the shoes, making them suitable for cricket players.
Step up Your Game With Yashi Sports!
Are you searching for the best shoe brands in the world for your athletic endeavours?
Look no further! Yashi Sports has got you covered.
From iconic classics to the latest innovations, Yashi Sports offers a handpicked selection of the world's most renowned shoe brands. Elevate your performance and style with our top-of-the-line footwear.
Visit Yashi Sports today and shop our best shoe brands!
Takeaway
In conclusion, when it comes to the top 10 best shoe brands in the world, it's not just about fashion and style; it's about quality, innovation, and a commitment to excellence.
These brands have consistently demonstrated their ability to meet the diverse needs and preferences of consumers across the globe.
Whether you're looking for athletic performance, classic elegance, cutting-edge technology, or eco-friendly options, these brands have you covered.
So, the next time you're on the hunt for the perfect pair of shoes, don't search shoe brands a to z; just remember the names on this list, and you'll be making a choice that combines fashion with function, comfort with style, and quality with innovation.
Your feet deserve the best; these top 10 shoe brands deliver nothing less.
What is top 10 shoes brand?
The top 10 shoe brands can vary depending on factors like region and personal preferences. Still, some well-known brands include Nike, Adidas, Puma, New Balance, Kookaburra, SS, GM, Asics, CA and Yashi Sports.
What is the top 1 shoe in the world?
There isn't a single "top 1" shoe worldwide, as shoe preferences vary widely.
Which shoes brand is best?
The best shoe brand is subjective and depends on individual preferences, such as style, comfort, and intended use.
What is the most popular shoe brand in the world?
The most popular shoe brand in the world is often considered Nike. Nike is known for its extensive athletic and casual footwear range and is widely recognized and worn globally.