Welcome to the vibrant world of cricket, where every hit, every pitch, and every catch keeps millions of hearts racing worldwide.
Imagine the sunlight hitting the field, the chorus of cheers echoing, and the satisfying thud as the ball meets the willow.
The bat, that pivotal piece of equipment in the player's hands, is a masterstroke of design and craftsmanship. But did you know that the size of the cricket bat can significantly influence the game?
As you delve into the fascinating topic of 'Cricket Bat Sizes,' you'll uncover the hidden science and skill behind this seemingly simple piece of sports gear. Prepare to be bowled over as we swing into the depths of this captivating subject.
Let's knock it out of the park together!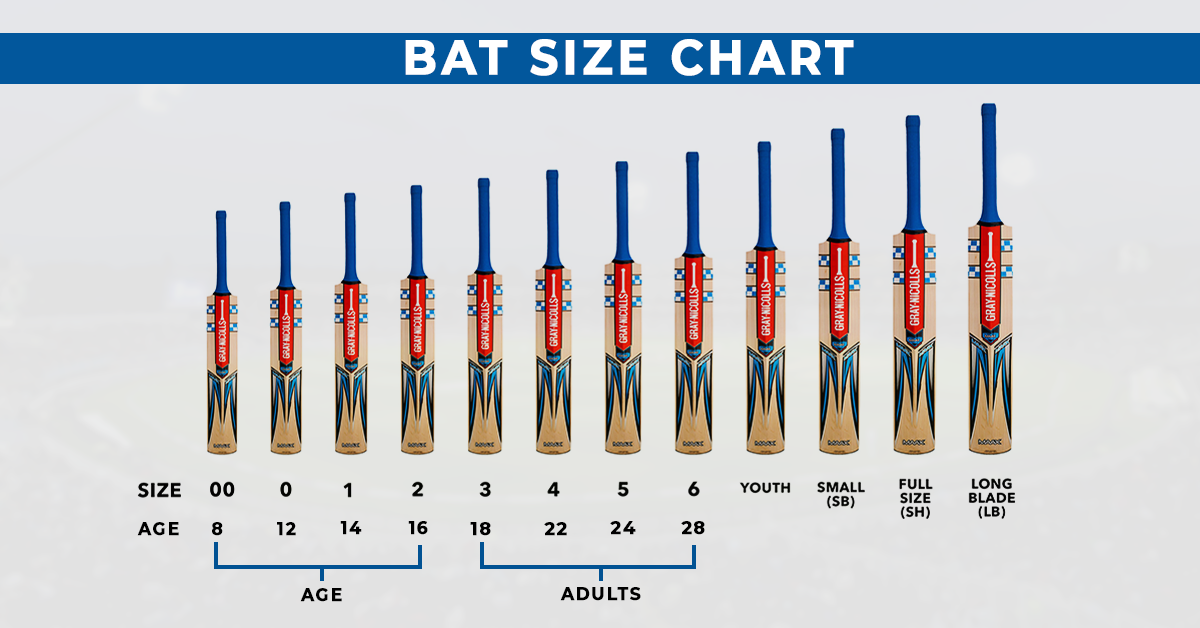 Different Cricket Bat Sizes
When choosing the right bat for a player, cricket bat size is an important factor. The correct size depends on the player's height, strength, skill level, and preference.
Here are the different sizes of cricket bats:
A breakdown of each size:
Size 0
This size is the smallest and is typically appropriate for children 4-5 years old or less than 4 feet tall. This would be suitable for preschool-aged children or those in early elementary school.
Size 1
This size is designed for children 5-6 years old or between 4 feet and 4 feet 3 inches tall. It's larger than size 0, allowing for growth and development.
Size 2
Size 2 is designed for children 6-7 years old or between 4 feet 3 inches and 4 feet 6 inches tall. It's a step up from size 1, accommodating the growth that typically happens during these ages.
Size 3
This size is for children 7-8 years old or between 4 feet 6 inches and 4 feet 9 inches tall. It's slightly larger than size 2, allowing children's continued growth in this age range.
Size 4
Size 4 is meant for children 8-9 years old or between 4 feet 9 inches and 4 feet 11 inches tall. It's larger than size 3 to accommodate the growth and development typically seen in this age range.
Size 5
This size is designed for children aged 9-10 years or between 4 feet 11 inches and 5 feet 2 inches tall. It's slightly larger than size 4 to allow for the growth that often happens during these ages.
Size 6
Size 6 is designed for children 10-11 years old or between 5 feet 2 inches and 5 feet 5 inches tall. This size is larger than size 5 to accommodate this age range's typical growth and development.
Harrow
This size suits older children, typically those aged 11-13 or between 5 feet 5 inches and 5 feet 8 inches tall. It's larger than size 6 and allows for the growth and development typically seen in this age group.
Small Men's
This size is for youths and adults aged 14-15 or between 5 feet 8 inches and 5 feet 9 inches tall. It's a step up from the Harrow size and is designed to fit older teenagers or smaller adults.
Please note that these sizes are general guidelines, and the appropriate size may vary depending on the specific measurements and proportions of the individual.
Here are some more insights:
Junior bats are made particularly for younger players. Choosing the correct bat for your child's age will affect their tactics. Compared to Senior bats, these bats are often smaller and lighter.
Senior cricket bats, often called Full SH and Full LH, are full-sized and modelled after Harrow bats. Choosing a short-handled or long-handled bat does not affect the breadth of the bat.
While practising, players must exert more effort to strike the ball since training bats are much thinner than Junior/Senior bats and are the same length and size. Additionally excellent for wicket-keeping practice or throw-down batting drills.
For adult players who are 5 feet 9 inches to 6 feet 2 inches tall.
Long Handle And Long Blade
for adults who are taller than 6 feet 2 inches. While the Long Blade has the same size blade as the Short Handle but a longer handle, the Long Handle has a longer handle and a longer blade.
Keep in mind that the weight and length of the bat should be comfortable to hold, enabling a balanced swing and precision shot-making. To discover the ideal fit, it's critical to try on several sizes and speak with seasoned athletes or coaches.
A larger bat could have more power but might also make you less controllable and manoeuvrable. A smaller bat, on the other hand, can provide you with more accuracy but restrict your ability to hit boundaries readily. Finding the ideal balance is essential.
Please be aware that these are only general recommendations and that a person's preferred bat size may change based on their comfort level and hitting style. Before making a choice, it is often wise to check out several bat sizes.
Beginners should often start with a lighter bat to learn strong batting techniques. They can switch to a heavier bat as they develop their strength and expertise.
Lastly, it's crucial to remember that cricket bats require proper care and maintenance to ensure they last and perform at their best. This includes knocking in the bat before use, oiling it periodically, and storing it in a cool, dry place.
We hope this helps!
How to Purchase a Cricket Bat?
The following process should be followed for purchasing a cricket bat online from a sports retail shop:
Start by visiting a trusted online sports retailer like Yashi Sports, renowned for selling a diverse range of cricket bats and other essential gear to enhance your sports performance.
Before finalizing your decision, all necessary details are provided for your convenience, encompassing the range of products, descriptions, modes of payment, and much more.
Spend time searching the website for the cricket bat that suits your needs. Before purchasing, compare various bats' specifications, reviews, and prices.
Once chosen, add the cricket bat to your virtual shopping basket and checkout. Provide your delivery address, contact details, and payment information.
Review your order to ensure the number of bats, sizes, and prices are accurate.
Place your order and anticipate a confirmation email from the online sports shop. The email should contain all relevant order details, the estimated delivery timeframe, and a tracking number.
Upon receipt of your cricket bat, scrutinize it to ensure it meets your expectations. If you encounter any issues or defects, contact Yashi Sports immediately for a resolution.
Finally, delight in the game of cricket with your newly acquired bat!
Verdict
In conclusion, selecting the right cricket bat size is crucial for any player seeking to excel. By understanding your physical attributes, playing style, and skill level, you can make an informed decision that will enhance your performance on the field.
Choosing the ideal cricket bat size depends on your unique tastes and skills. Try different bats until you discover one that feels like an extension of your arm and allows you to perform on the field to the best of your ability.
So, go ahead with assurance, equipped with the knowledge of various cricket bat sizes, and make a decision that fits your game. Accept the strength, dexterity, and delight from using the ideal bat, and let it serve as the impetus for your success in the thrilling world of cricket.
Elevate Your Game, Dominate The Pitch With Yashi Sports!
Step up your game and hit the cricket pitch with confidence!
Yashi Sports is your one-stop shop for all your cricketing needs. We offer an extensive collection of cricket bats, tailor-made to suit everyone from the novice to the pro.
Our bats are available in various sizes, ensuring a perfect fit for every hand that swings them.
But we're not just about bats. We bring you the full spectrum of cricket accessories to complement your game and boost your performance. With Yashi Sports, you're not just buying equipment but investing in quality and joining a community of champions.
Don't just play; dominate the game. Choose Yashi Sports, where quality meets cricket.
Ready to make the big leagues?
Start your journey to cricketing greatness with Yashi Sports today!
How to choose the right size cricket bat for your child?
Your child's height is the main factor to consider while selecting the appropriate size cricket bat. After measuring your child's height, consult a cricket bat size chart. The bat must not be overly hefty to impede proper stroke play and sound technique. 

You can get the ideal fit for your little cricketer thanks to the large selection of sizes offered by Yashi Sports.
What size cricket bat do I need?
Your height determines what size cricket bat you require. Short Handle (SH), Long Handle (LH), and Long Blade (LB) are the sizes available for adults. 

The most frequent position, SH, is appropriate for players over 5′ 7″. Consult a cricket bat size chart for more precise measurements.